5 Benefits of Selling Your Car to a Dealership
Nov 24
When you, as a car owner, are ready to sell your vehicle, you have various possibilities. You can trade it in at a dealership, sell it privately or online, or even take it to a scrap yard. But if you want to maximize your vehicle's value, the best option is to sell it to a dealership.
There are various advantages to selling your car. First, you can acquire cash for the worth of your automobile in a flash. And second, dealerships are often more qualified to oversee the procedure than individual buyers.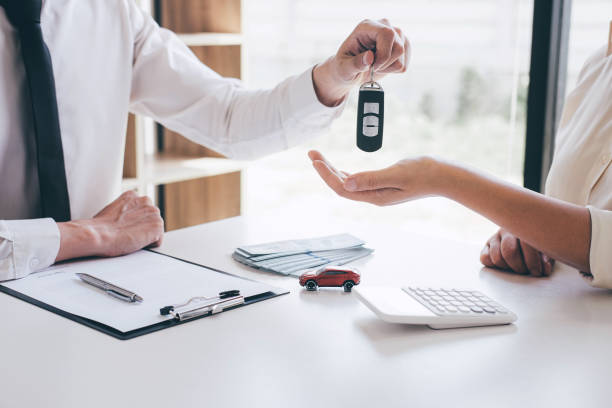 Why Should You Sell Your Vehicle to a Dealer?
1. You Can Obtain an Affordable Price
Most people assume that selling their vehicle to a dealership is the worst option because dealerships are notorious for lowballing. However, if you do your homework and know how much your vehicle is worth, you will be able to trade it in for a fair sum.
If you are unclear, you can determine the worth of your vehicle using online resources such as Kelley Blue Book or Edmunds. Additionally, you can speak with family members or friends who just sold their autos. Once you have a rough estimate of your vehicle's value, you may begin negotiating with the dealership.
Keep in mind that the goal of the dealership is to maximize profit, therefore they will not pay you the full value of your vehicle. However, if you are informed and willing to negotiate, you can earn a fair price for your trade-in.

2. In General, Dealerships Have Superior Equipment

When selling a vehicle to a dealership, they can often conduct the entire transaction more efficiently than individual buyers. This requires having the personnel and knowledge to appraise, advertise, and eventually sell your automobile. Additionally, when selling to a dealership, the selling procedure is frequently hastened.
If you are a car owner who has decided to sell your old vehicle, thoroughly consider your options to choose the optimal course of action. Think about how quickly you need to sell your car, how much more money you're hoping to obtain, and how much time you're willing to put in the selling process.

3. Selling to a Dealer is Successful

The dealership will handle all paperwork, and immediate payment will be made to you. Private party sales are not required; simply visit the showroom.
When you sell your car to a dealership, the procedure is extremely convenient because they will handle all the paperwork and pay you instantly. This is a practical approach for selling a used automobile. However, processing to a private party may require additional time and paperwork.
If you are contemplating selling your automobile, there are a few things you should keep in mind to obtain the best price.
It is crucial to conduct research and compare local buyers, dealerships, and auto stores before making a purchase.
Determine how much they want for your trade-in and how much comparable vehicles are selling for.In addition, it is advisable to obtain a valuation of your vehicle from an online site such as Kelley Blue Book or Edmunds.com.
Ensure the following before delivering your vehicle to a dealer:
Include your registration, vehicle identification number, vehicle history record, and proof of insurance. 

Possess a realistic idea of the value of your automobile.

4. You need not be concerned about haggling

By selling your old vehicle through a dealership, you can prevent fraud committed by private buyers. You are in a position to negotiate a reasonable price because the law mandates dealerships to provide all information regarding the vehicle for sale. You also have the option to negotiate with the dealer if you believe the quoted price is unreasonable.
Private buyers, on the other hand, are not compelled to provide information on the vehicle you are selling and may try to take advantage of you if you are careless. Before finalizing the sale of your vehicle to a private buyer, you should collect all important information in writing. This will help you avoid frauds and unethical behavior.

5. obtaining the highest return

When selling a vehicle to a dealership, it is necessary to obtain the highest possible price. You may optimize the value of your vehicle by taking a few simple measures.
How to Increase the Value of Your Vehicles
Be certain to clean and repair the interior and outside of your vehicle before taking it to the shop. A clean vehicle will demonstrate that you have properly maintained it, allowing you to charge a higher price.

Next, undertake a preliminary evaluation to assess the worth of your automobile. Consequently, you are less inclined to accept the dealership's low offer.

Lastly, you should be prepared to negotiate and carry all vehicle papers. Don't be afraid to assert your ownership of the vehicle and demand the price you desire. You can ensure that you receive the highest amount of money for your vehicle when you sell it to a dealership with a little effort.
After gaining a thorough understanding of the market, it is time to begin negotiations. Remember that the price of your automobile is negotiable, so feel free to negotiate. When negotiating with the person in charge, it is crucial to be both respectful and assertive. If they start making lowball offers, be prepared to leave.

Conclusion

A car dealership is the best option for buyers searching for a clear transaction. If you're selling a used automobile, you should undertake research beforehand so that you know what to expect and may obtain the highest possible price. You may feel certain that you are receiving a fair price because the law requires dealerships to disclose any information about the used vehicle you are acquiring. You also have the option to negotiate with the car dealer if you believe the quoted price is unreasonable. Private events may take longer and require additional documentation. When processing a vehicle at a dealership, frauds committed by private buyers can be avoided. These are some of the advantages of selling your car to a dealership.


So, are you still looking for more information with regards to the selling your Car to a dealership?
Check out this post: https://sellmycardenver.co/5-advantages-of-selling-your-vehicle-to-a-dealership/